Bintan - Day 1 (Part 3)
... Continued from previous post ...
We picked Bladey up at the lobby. Again, there was super accuracy in meeting him. We reach the lobby in time to seem him set foot there too. Ha!
It was already 5+ I believe. I can't remember exactly. Dearie and I needed to get our room 'cos we were told at 1pm that the room was not ready (check-in time is 3pm mahz). We all went to the counter and collected our key. Guess what the receptionist told us? They upgraded us to a SUITE due to availability problems!
A FREAKING SUITE!
I felt as if I tiok lottery. Jumping up and down like crazy girl. We quickly went in search of OUR suite. Heehee!
We reached the end of the resort (meaning closest to the beach), and there we saw the door. Different from the rest 'cos it was black, unlike the rest of the rooms in brown.


To show you a better contrast, here's what the deluxe room YL and Evon got looked like inside:



Need to explain that there are superior and deluxe rooms. Superior rooms are cheaper but because they were fully booked, we had to settle for the deluxe rooms but topping up some.

Now, for the unveiling of the suite....


Yep! That's Bladey opening the suite door.

Now for what's behind it...
The living room



The balcony (view)



The bedroom


.



The bed



The huuuge bathroom (where Dearie was running his bath)



Forgive my angles. The room was too huge for me to capture everything in these few shots. If it looks small, well... it really isn't. It's already an apartment.

Bladey had just come after a long day at work so check out how he was already enjoying himself.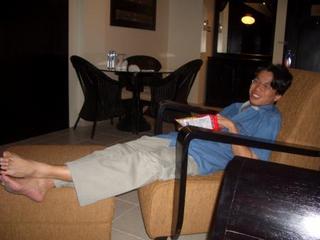 The rest of us were busy getting our baths to wash off all that time in the pool. As you saw in the previous photo, Dearie was running the bath but he never got to use it. Neither did I.

Why?

We couldn't understand why the hot water was yellow. Kinda murky in fact. THe phone in our lovely suite wasn't working despite the 2 phones and 3 lines, so we didn't bother about calling the reception. Blech. Nothing's perfect.

We made do with quick showers and had to run off to catch the bus to The Kelong for dinner!

On a bumpy ride to The Kelong, we got Bladey to snap quick shots of us at the back.
Completely unsuccessful:



Somewhat successful - Evon's eyes just had to close at that moment



Again somewhat successful - if you don't count YL's unprepared look



No more shots after that 'cos the bus stopped - meaning we reached our destination - THE KELONG.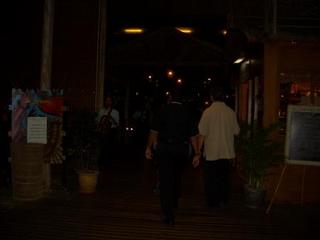 (Waaay too dark to see huh? Well, it was THAT dark! And told ya, no photoshop too.)

Dinner time!!!

We were worried when we saw a long queue but thank goodness we didn't have to wait long to get seated. We took the ala carte menu and fussed over how we wanted our dishes. You don't get such a patient waitress in Singapore.

When the food came, we realised we might have ordered too much for the table. Haha! We had a good dinner anyway.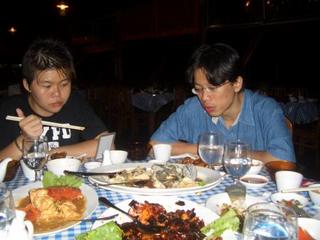 YL and Bladey are staring at the dismembered Grouper (it's a fish in case you don't know), thanks to Dearie who painstakingly cut out the meat for all of us so we didn't need to wrestle with the bones. Awww...

This is what was left of the crayfish before the last one was gobbled up: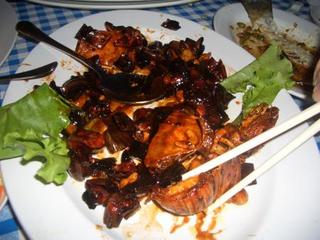 After dessert, I started feeling a little wobbly. THe strong winds were blowing and I felt as if I were starting to get sea sick. Luckily I wasn't alone on this 'cos Evon felt it slightly too.

We hurriedly got the waitress to snap a quick shot for us.


Oops. She snapped too fast.

This was much better:



We got to the place where we had alighted from the bus and waited.



It seemed to be taking a while, so we just decided to snap some more. We were really really really really really VERYYYYY tired by then. Some more just finished eating. Feel like sleeping even more.




Dearie snapped this hilarious one, of us getting ready for the shot:



The not so hilarious part was that when I put my arm behind Evon, she (in a bid to make sure I didn't get burnt by her ciggie) burnt YL instead. SUPER OUCH.

We composed ourselves again, and managed to snap this:



Then of course there's Dearie and me...



The bus was a long wait. We made our way back to the resort and crashed into the suite altogether. We were all so in need of sleep that we all got into the bed together.

But that was not before Evon and I had a nice view of the stars at the balcony. It was the first time I ever saw a sky full of stars quite so clearly. Amazing. I'm not the sort who thinks such stuff are romantic like sunsets, but I do appreciate being able to see "the real thing" after 23 yrs on this earth.. at long last.

We all fell asleep one after another. I remember YL leaving the room, while Blade and Evon puffed away at the balcony. Dearie and I just snoooooozed.....

We could have all stayed in the same suite actually. Only that the rest wouldn't have a bed to sleep on. Heehee! ok lahz. At least 1 more could take the bed. Bladey had to take the sofa in YL and Evon's room anyway.

That was the end of Day 1. Told in 3 parts no less!

Stay tuned for ALOT more photos from Day 2!!!

Till then...